I have been quilting for 17 years. I started with using a variety of fabrics and threads. What ever I had in my drawers I used. My first quilts Sometimes worked and sometimes didn't. I learnt a lot and found out that cotton fabrics worked better than poly cotton and that some threads weren't suitable for quilting. I spent a lot of money on threads testing and trying them for quilting, appliqué and patchwork. Over the years of quilting I have narrowed my choice of threads down to 2 preferences, unless I am using a speciality thread I.E metallics or a woollen feel thread.
My first choice of thread is the superior So fine range. They are a very fine polyester thread. They have a beautiful range of colours and are fantastic for blending, quilting and drawing with. They rarely break and a very economical. Superior sell a lot of other threads too but I have only tired this range out.
Click here for more of their range
This is only one sheet of their colour range!!
They have a wonderful colour range plus a wonderful range of variegated threads.
Because they are so fine they last for a long time.
Click here for more of their colour range
They come in 2 sizes although I have only seen them in the smaller quantity in New Zealand. .
In the Waikato they can be purchases at Donna's quilting studio in Hamilton or at Waitomo sew worms in Te Kuiti.
The other thread I like to use is the Mettler poly sheen threads. They are a lovely shiny thread without all of the problems associated with metallic threads. They don't break very often, they go through the needle well and produce a beautiful shiny sparkle to quilting. They come in a wonderful variety of colours and work well for art quilting and embroidery.
Click here for more technical information on this thread
They also have a very good range of variegated colours. These can be purchased at most New Zealand quilting/sewing shops. I have only seen them sold individually but you may be able to buy them in packs at some stores.
With both these threads I use a invisible thread in the bobbin made by superior threads. It is made from polyester not nylon like most other monofilament threads. It runs beautifully in the bobbin, doesn't stretch and lasts forever as it is so fine.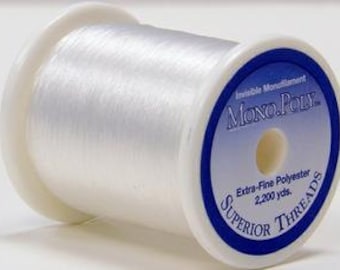 Click here for more information
I very rarely have to stop for breakages, fraying and knotting with any of these threads. I can run the machine fairly fast without many problems. I highly recommend these threads for art quilting.